About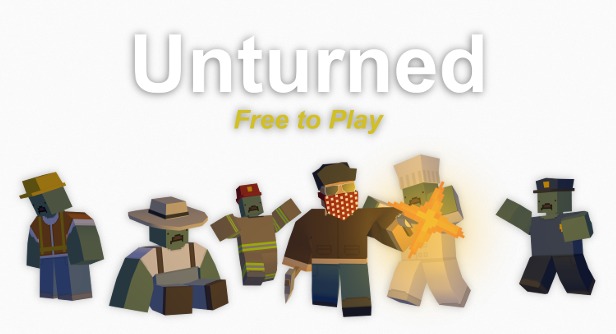 STAY UNTURNED
You're one of the few not yet turned zombie. Keeping it that way will be a challenge.
Go in guns blazing and attract the attention of everything, living and dead.
Take a subtle approach sneaking around and making use of distractions.
Confront and learn to counter special abilities ranging from invisibility to fire-breathing to lightning attacks.
STRUGGLE AGAINST NATURE
Zombies aside nature does plenty to make life hard.
Forage wild fruits and vegetables.
Hunt animals for pelts and meat, or in some hostile environments become the prey.
Fish for food and garbage.
Plant a crop and make sure it gets rain.
Seek warmth and take shelter from blizzards.
DEAL WITH OTHER PLAYERS
Friend or foe there's a lot of interesting people online.
Arrest bandits with handcuffs and blindfold them as a non-lethal strategy.
Fight with every kind of weapon under the sun – swords, machine guns, snipers, missiles, landmines – you name it.
Raid enemy encampments using charges and detonators and steal their loot.
For pure PvP play arena mode in the last man standing battle to the death, or PvE for peaceful cooperation.
Roleplay servers encourage everyone to stay in character and tell a story together.
HELP THE NEW SOCIETY
Plenty to do even if you're offline or going solo.
Meet, talk and trade with NPCs.
Complete quests to aid NPCs and progress the story.
Fend off waves of the undead to clear hordes.
Secure airdropped supplies.
Gear up with gas masks to scout radioactive dead zones.
FORTIFY YOUR STRONGHOLD
Somewhere to kick back and chillax or a hideout to direct your gang, whatever floats your boat (in this case sometimes literally).
Build with barricades, furniture, traps, machinery and more.
Board up the windows of existing structures to survive the night.
Craft an entirely new structure from supplies you collect.
Turn your vehicle into a moving fortress by building on it.
TRAVEL BY LAND, AIR, AND SEA
Roll out in style with a fully stocked garage.
Land vehicles including tanks, quads, and snowmobiles.
Air vehicles from helicopters to seaplanes to fighter jets.
Sea vehicles such as jet skis and hovercraft.
Maintain your vehicles with tires, batteries, and fuel.
EXPLORE MASSIVE WORLDS
With 5 officially developed and 1 curated community created sandbox map there's a wide variety of locations to discover:
Prince Edward Island (PEI)
The Yukon
Washington
Russia
Hawaii
Germany
MOD EVERYTHING
From the ground up Unturned was designed for modding.
Download player created content ranging from guns to vehicles to huge levels from the workshop, and upload your own.
Build custom maps using the in-game level editor. All of the official maps were created with the same free public tools and their assets are open for you to use.
Write plugins using built-in or strong third-party systems.
Get your apparel and skins upvoted in the workshop for consideration to be accepted and sold.
Team up with other modders and put together your own update for consideration to be officially adopted.
NEAT STUFF
I think these features are neat and they didn't fit anywhere else. There's many more I want to include but for brevity's sake:
Most objects can be destroyed to create new pathways.
For immersion, you can pick a frequency and use two-way radios to communicate with your squad rather than external voice chat programs.