About
3..2..1..Grenades! is a snowball fight with high explosives. Help save Grenades Co from the terrible monster it's unleashed in this LOCAL MULTIPLAYER ADVENTURE GAME. Save the day or battle it out by yourself with bots, or with up to 4 of your friends!
Never bring a grenade to a snowball fight! That is unless you're needed to save Grenades Co. from horrible aliens! battle by yourself or bring along up to four grenade-mad friends in the frantic FPS 3..2..1..Grenades!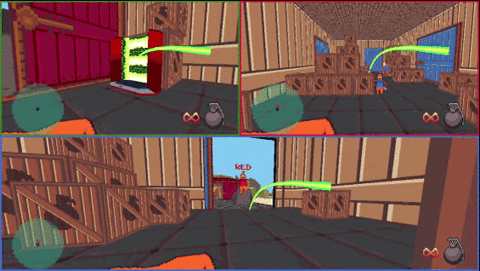 Jump, aim, throw grenades, avoid grenades, kill enemies, get killed, and do frantic battle against friends/ enemies on your sofa, or even swift and cunning AI bots.
Overworld Adventure Mode
Earn Golden Grenades by playing game variants to unlock more levels and fight off the alien menace that Grenades Co has unleashed.
Lots Of Multiplayer Modes
Deathmatch
Fallball
Tennis
Capture the Pug
Paintball
Target Practice

Over 30 Mix and Match Game Variants
Explosions++
Big Head
Invisible Grenades
Invisible Avatars
Slow Mo
Tiny Mode
Low Gravity
Turbo Speed
Bullseyes Only
and Many More!